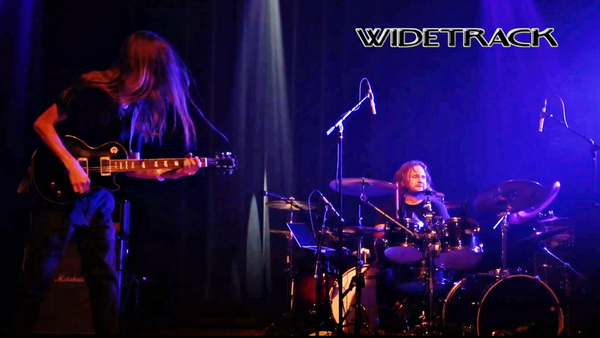 The Widetrack Chronicles 86: Update (November 2021)
Ron here... A couple new updates to report in the world of Widetrack...

Packing all the activity he can into his senior year of high school, Zach has been busy young man... But that doesn't mean we haven't been able to make progress on our fifth album...

As of this writing, we've got six songs semi-close to finished... We're still deciding/discussing/debating how many tracks will be on this one (Zach says 8 is enough; I've always thought 12 was a good number... We'll probably settle at 10-ish, lol)...

With Zach's playing skills constantly evolving, and me practicing like crazy just to keep up, our music is taking on new, surprising characteristics that have us buzzing with excitement... Can't. Wait. For. You. To Hear. It.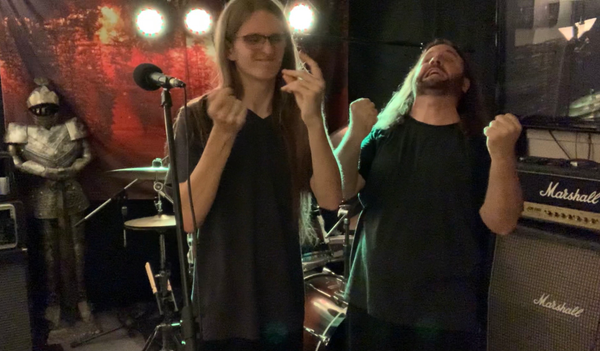 In the meantime, our friends Jim and Allanah from Purple Otter Sunrise Productions are finishing up our newest video for one of the new songs... This one is going to be a bit of a "concept" clip, featuring us playing, but also some actors and such... Here's some screenshots from it: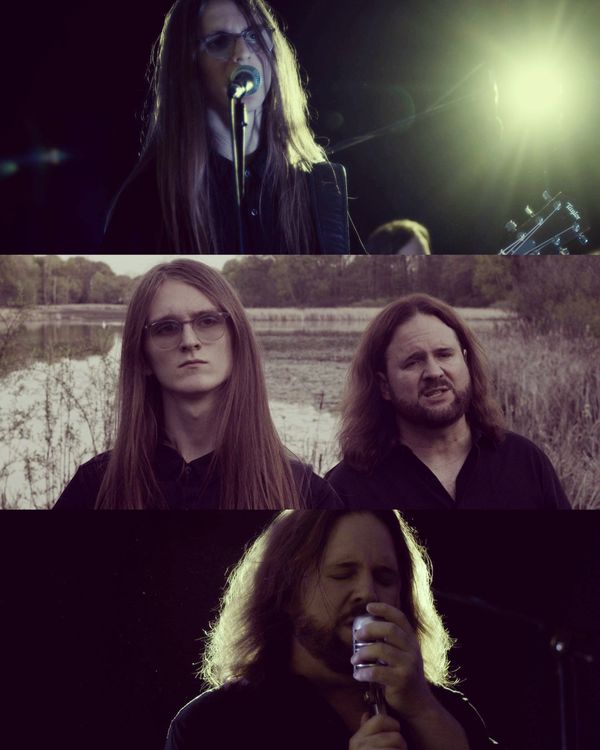 With the new album's release still a year out, we're trying to figure out the best time to post this new clip... We'll of course let you know as that becomes clearer...

Incidentally, we were thinking that it might be a cool thing to record and release a couple cover song remakes in the meantime, just to have something out there for you, since it's already been a year and a half since the release of our last album, The Unwakening (we'll see if this is feasible, though)...

In the meantime, it's all about writing and recording... Speaking of which, we realize the music world has changed dramatically since Widetrack began releasing albums... These days, independent bands are releasing singles more frequently, rather than albums every year or two...

And so, this could possibly be the last time we release an album all at once... Old habits die hard, and we do like presenting a collection of songs together as an album, as opposed to singles trickling out every 4-6 weeks...

But we want to do things that actually help us raise awareness for our music...
 
And, as mentioned before, Zach is preparing to go off to college, so it's really up in the air as to how much time we'll have to work on Widetrack music together...

So singles might be a more practical way to keep things moving forward...

We'll see...

I guess that pretty much sums up our our life philosophy...

Reminds me of an old Chinese Fable...

A farmer had only one horse. One day, his horse ran away. 
His neighbors said, "I'm so sorry. This is such bad news. You must be so upset." 
The man just said, "We'll see." 
A few days later, his horse came back with twenty wild horses following. The man and his son corralled all twenty-one horses. 
His neighbors said, "Congratulations! This is such good news. You must be so happy!" 
The man just said, "We'll see." 
One of the wild horses kicked the man's only son, breaking both his legs. 
His neighbors said, "I'm so sorry. This is such bad news. You must be so upset." 
The man just said, "We'll see." 
The country went to war, and every able-bodied young man was drafted to fight. The war was terrible and killed every young man, but the farmer's son was spared, since his broken legs prevented him from being drafted. 
His neighbors said, "Congratulations! This is such good news. You must be so happy!" 
The man just said, "We'll see."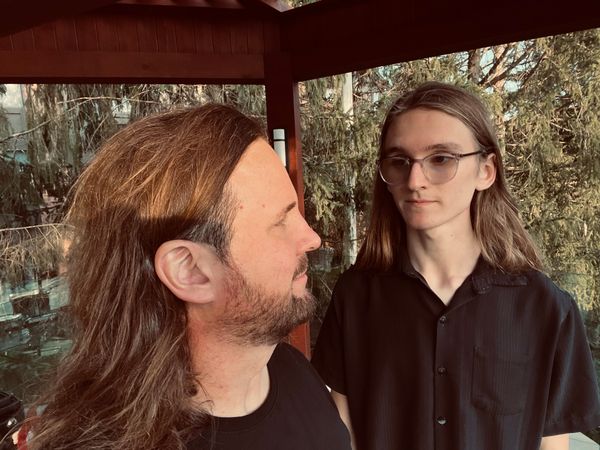 Always love hearing from you! Feel free to drop us a hello at: Widetrack@Widetrackmusic.comSubscribe for updates/exclusive content: http://www.widetrackmusic.com  
Official Website: https://widetrackband.com  
Store: https://widetrackband.com/store-physical  
Spotify: https://open.spotify.com/artist/3lR4TQZT2bQd0nS2rauQwP  
YouTube: https://www.youtube.com/Widetrack  
Apple Music: https://music.apple.com/us/artist/widetrack/255327031  
Facebook (page):  https://www.facebook.com/Widetrackband  
Facebook (VIP group): https://www.facebook.com/groups/Widetrackband  
Twitter:@widetrackband / https://twitter.com/Widetrackband  
Instagram:@widetrackband / https://www.instagram.com/widetrackband  
Pandora: https://www.pandora.com/artist/widetrack/ARPh4gdrt6dnPpw  
Soundcloud: https://soundcloud.com/widetrack  
Bandcamp: https://widetrack.bandcamp.com  

BIO:  
Widetrack is the musical partnership of Ron Tippin and his 17 year-old son, Zach.  
The duo's "Alterna-Prog" sound strikes a balance between the moody-deep undertones of such progressive groups as Pink Floyd, Radiohead, Porcupine Tree, The Mars Volta, etc., with the heaviness of alternative and hard rock bands like Soundgarden, Queens Of The Stone Age, Tool, etc.  
Between 2007 and 2016, Ron self-released the band's first three albums, 'Widetrack', 'Widetrack II', and 'Widetrack III', Zach's recording debut, as bassist.  
Beginning in January 2019, the father-son team wrote, recorded and released one new song each month, marking Zach's debut as a songwriter and recording engineer, as well as the first time Ron had written Widetrack music with another person.  
The twelve songs comprise Widetrack's fourth album, The Unwakening, released on April 23rd, 2020 (Zach's 16th birthday).  
Widetrack is currently booking live dates and working on their fifth album.